Raise a Glass to These Groovy Gifts for Wine Lovers
During the course of the current pandemic, alcohol consumption has gone up. Like, a lot. For that reason, the wine industry has exploded with many different styles of wine and ways of buying it (you're welcome, wine industry!)
As a result, nifty accessories and homewares have been created to make the wine drinking experience more unique, fun and less of a guilt trip, including a mix of quality and novelty gifts for wine lovers.
If you have a special someone in your life that absolutely loves wine, then read on. We'll highlight some of our best gifts for wine lovers in Australia...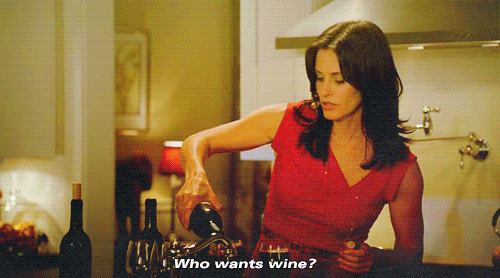 1) Dachshund Stemless Wine Glass
A dog is a man's best friend, as well as wine, or something like that...
Whatever the saying, dog-lovers will go barking mad over this dachshund-themed stemless wine glass. After a tiresome day, stretch out and relax with this quality ceramic glassware. 
Remember that this product is hand-wash only, so keep that in mind when cleaning. Your puppy-loving friends will thank you when they see this gift!
2) Picnic Wine Carrier
Look, we all know drinking too much wine isn't easy on liver health. However, this picnic carrier makes transporting your favourite wine bottle (or two) easier than ever. 
With its beautiful water hyacinth material and simple design, this carrier brings any wine lover close to nature. Plus, it's perfect for bringing any drink – whether it's wine, water, juice, or beer – to an outdoor event. Get in touch with your wild side, and order one today. 
3) "Quack Open a Bottle" Wine Bag
Looking to give a little extra zing to your wine gift? Check out this duck-themed wine bag that will have the wine lover in your life "quack-ing" up. 
This item has great value for its price as well, as it can become a reusable wine transport bag for anyone that receives it. With a high-quality printed image, cute ribbon handles, and a humourous tagline on the front, you can make any gift shine even more. 
4) Koala Wine Markers
Ever find yourself putting down a glass of wine at a party and forgetting which one is yours? Well, with these koala wine markers, you won't have to go on a safari just to find your glass. 
These little critters are made from silicone and easily attach to the stem of any wine glass. With six different koalas, each with its own brightly coloured design, you and any wine lover around you won't lose a glass again. They're also aptly titled - Social Climbers. CUTE!
5) Wine Trails Australia & New Zealand
One of the best gifts for any wine lover is this hardcover book published by Lonely Planet. Featuring hidden gems across Australia and New Zealand, this book can make any vacation a perfect wine getaway. 
Learn about insights from regional wine experts heard only through the grapevine. This includes the best wines to experience and descriptions of each destination. 
This book is sure to last a long time, offering plenty of places for short weekend adventures or extended travels across the continent. Spoil a wine-lover with this wonderful travel companion and turn them into a connoisseur!
6) Blue Q Wine Socks, Mitts and Aprons
Is the idea of drinking wine even a question? Do you know the type of person that always says "yes" when wine is involved? Then these 'Dear Wine, Yes' socks are perfect for them.
Hard relate to trying to get healthy and failing? Pop on a pair of 'My Favourite Salad is Wine' oven mitts next time you get a microwave meal out of the oven. And when you are in the mood for cooking, Blue Q's 'I've Heard Good Things About Wine' apron will complete the look.
Now you're all decked out for a perfect night in, on the couch with a bit too much to drink!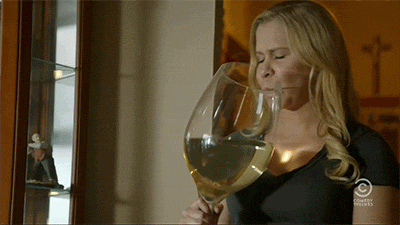 7) Cheeky Wine Tumblers (Set of 4)
Wine can make us say the cheekiest things sometimes. So, why not embrace that with these wine tumblers?!
Featuring some presumptuous phrases at various fill levels, these wine tumblers are guaranteed to create a laugh. Don't worry, some glasses feature more tame sayings in case you'd rather serve a glass to your mother-in-law.
Perfect for a pool day, these glasses are made of tritan – an unbreakable glass-like material. Even better, these tumblers are dishwasher safe, so you can have all the fun you want and wash them easily for your next gathering. 
8) Cristina Re Wine Glasses
Want to keep it classy? Then our luxury sets of x2 handblown rose crystal coupe wine glasses and Estelle gold wine glasses from Australian artist and designer Cristina Re is exactly what you need.
Paying homage to the classic glamour of High Tea, this vintage inspired fine crystal glassware set is perfect for enjoying a glass of wine in style and pretending your out of an F. Scott Fitzgerald novel. Cheers!
Find Even More Gifts For Wine Lovers in Australia
These are just some of the many options offered at Homing Instincts. We have plenty of other gifts for wine lovers. However, we also have gifts for any other occasion.
Explore our website to find gifts for babies, picnics, or husbands. You can also shop by brand to see all of the fantastic brands we distribute.
Are you still looking for the perfect gift? Shop with Homing Instincts to make your life easier, and bring joy to others' lives too.
But first things first: